Pleated Filters
Extended Surface, Pleated Filter with Process-Controlled Quality
Mechanical efficiency — does not rely on electret charge technology
Form and fit unlike any other pleat available today
Self-supporting DuraFlex® media made from virgin fiber; no wire support needed
Consistent media with controlled fiber size and blend
High capacity model, PerfecPleat

M8

, available for applications where higher efficiencies, airflow,  and longer life are important
Available in 1″, 2″ and *4″ models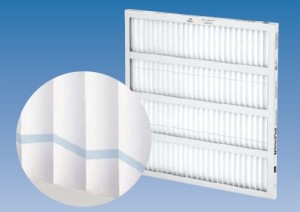 Our pleated filters self-supporting characteristics allow a pleating pattern that promotes airflow and maximizes dust holding capacity (DHC). The PerfectPleat M8 is ideal for applications where pleated filters are currently in use and higher efficiencies are required or desired. PerfectPleat is best suited for standard capacity pleated filter applications. Heavy Duty (HD) PerfectPleat is available for
applications where extremely low temperature and high airflow are present. See Brochure AFP-1–201. Every PerfectPleat offers superior durability and performance when properly installed and maintained.
Call us for a free quote for your pleated filters!