Industrial Air Filters | Commercial Air Filters
National Filtration Products will supply you with a wide range of top quality industrial air filters and paint filtration products.  We supply the following areas: Toronto, North York, East York, Etobicoke, Vaughn, Concord, Mississauga, Barrie, Hamilton, Burlington, Oakville, Richmond Hill, Aurora, Newmarket and all Southern Ontario, Canada.
Industrial Air Filters:

Paint Booth Filters / Spray Booth Filters
Filters for

HVAC

(heating, ventilation and air conditioning)
Bag or canister filters for dust collectors and powder coating
Other industrial filters (Please inquire)
Paint Booth Filters / Spray Booth Filters
Exhaust Filters
Overspray Filters
Downdraft Media
Accordion Filters
Andrea Filters
Poly-Wire Filters

SSP

Filters (*Self-Supported Panel Filters)
Booth Paper
Powder Coating Filters
Intake Filters
Cartridge Filters
Paper Paint Arrestors
Paint Pockets
Fiberglass arrestor

HVAC

filters:
Bag Filters
Pleated Filters
Polyester Filters
Frames and Media
Bulk Rolls of Media, Poly or Fiberglass
Final filters: Hepa, Varicel,

RF

Riga Flow type
Box type or Single Header
Industrial Air Filter Dry Cleaning
National Filtration Products also specializes in the cleaning and restoration of industrial air filters / cartridge filters. Restoring your industrial air filters can reduce your replacement cost by up to 50%. As for the Environment.….Recycling your industrial filters, even once, can help reduce your corporate "carbon footprint".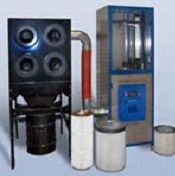 We dry clean the following air filters:
Heavy Equipment Filters
Powder Coating Filters
Cartridge Filters
Sand Blasting Filters
Fume Extractors
Dust Collector Filters
We also provide new replacement filters for the above.
At National Filtration we strive to meet your every need with industrial air filters and provide the finest service possible.